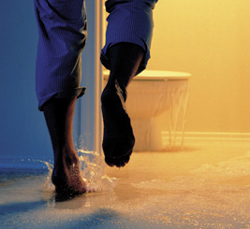 We bet it's happened to you before – toilet trouble.  It's always unexpected, and happens during the worst moment possible.  Perhaps you're visiting a friend's house, or jumped out of bed in the middle of the night for a quick trip to the bathroom.
A flush of the toilet and yet instead of sinking away into oblivion it starts to rise.  You reach for the plunger and do your best to get the contents of your toilet bowl unclogged.  But it just won't work.  Water overflowing down the sides of the toilet and all over your bathroom floor.  Is it laminate flooring or carpeting?   
You need assistance, and that's where First Choice Cleaning & Restorations can help!
If your toilet starts overflowing it's important not to try flushing the toilet again in hopes it goes down.   You should connect with a professional because you could be dealing with a water damaged area.  Especially if the water has soaked into wood or drywall, or if your bathroom is carpeted.  When dealing with water damage, you want to remember that it can turn into a mold problem if all moisture is not removed.
So if your overflowing toilet turns into a water emergency, First Choice Cleaning has got you covered.  We serve the West Michigan area from Holland to Grand Rapids.  Our on call water restoration manager will respond to your call 24 hours a day – seven days a week.
However, before you make the call you will need to turn the water valve off.  It's usually located below the tank and attached to the wall. Our water restoration technicians respond to requests within an hour, and are educated and certified in the latest and most advanced technology for drying.  
Our goal is to be as efficient and thorough as possible.  We understand that having technicians in your home can cause chaos to your routine, and we want to respect your privacy.  So we will do our best to return your property to normal as quickly as possible.
Our approach to water restoration is in four steps; evaluation, water extraction, structural drying, and monitor progression.
So call us at (616) 772-4700 if you'd like more information, or feel free to add our number to your house emergency list!  We've got you covered!