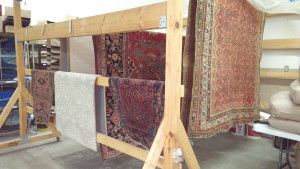 One great thing about living in West Michigan is experiencing the seasons. We get to enjoy each, even though some may last longer than others such as winter!  But that doesn't stop us from enjoying all that a season brings to our lives.
You've probably noticed the need to wear an extra layer of clothes and packing away your summer attire.  While you're driving, or on a stroll through the neighborhood, we're sure you've noticed the changing color of leaves.  These are signs that the holidays are arriving soon, and winter is on its way.
As you begin to make way for the colder, winter months ahead, we at First Choice Cleaning & Restorations encourage you to take a look at your rugs and mats around the house.  Ask yourself the following questions. How long has it been since this rug or mat had a good cleaning?  Will we be having guests during the holiday season? Does that rug look dirty?
Rugs and mats are often overlooked, yet are used regularly. They may look clean but you never know what's lurking within. Sure you may vacuum your area rugs regularly, however sometimes vacuums don't catch everything.
At First Choice Cleaning we offer services that specialize in rug and mat cleaning. You don't have to worry about ruining your rugs or mats, or how exactly they should be cleaned because we do it for you!
It's quite simple actually.  All you have to do is roll up your rugs and mats, drive to our shop in Zeeland, and we'll take care of the rest.  Our certified carpet care technicians will give your rugs and mats the deep cleaning they need and you deserve.
First Choice Cleaning carpet care technicians use special cleaning and drying processes. The outcome is that your rugs and mats will look significantly better! Bonus is that they will only enhance your holiday décor – imagine how much added brightness a rug can bring!
Our environment is climate controlled to ensure that your rugs and mats are dry within hours. The first step in the process is inspecting the rugs and mats. It's helpful if you point out your areas of concern so that we can effectively remove any unwanted stains. We will then give you a quote, and once we get the go ahead from you our carpet technicians will get to work cleaning your rug or mat.  We have a five step process, which can be read on our website on our Rug Cleaning page.
Now go on and inspect your rugs and mats. If you can't remember the last time they had a good cleaning then it probably is time for a little TLC.  We would love to make your rugs and mats look as good as the day you bought them. Call our office at (616) 772-4700, and let's get you an appointment.