Who We Are
First Choice Cleaning is a "Top Shelf" cleaning company in the Greater Grand Rapids Area.  We offer a variety of cleaning services, floor coatings and water restoration services to higher-end markets and businesses who value the appearance and cleanliness of their living quarters and work environments.
We are certified professionals who specializing in quality driven services.  We monitor our work to ensure that our services meet and exceed our customers expectations.  We pride ourselves in our attention to detail and if the customer is not satisfied…we make it right.
First Choice has 22 years of experience, knowledge and expertise in the cleaning industry.  We are an IICRC Certified firm. First Choice enlists IICRC certified technicians to provide excellent service in carpet cleaning, water restoration, and more. First Choice also holds memberships with the American Drying Institute (ADI), Carpet and Rug Institute (CRI), and the Society of Cleaning and Restorations Technicians (SCRT).
Our Background
First Choice Cleaning and Restorations is a family-owned and operated business with 22 years of experience. Early on we made a decision to be the most professional, educated and courteous company in our service area. Our commitments to hiring quality employees, continuing education and using the latest technologies and resources have made First Choice Cleaning and Restorations a leader in West Michigan.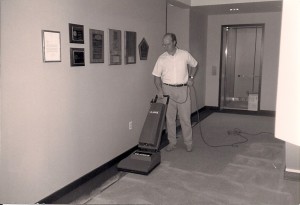 As a cleaning company, our value is found in the relationships built with our customers. At the end of the day, it's not looking back at our work or offering another service the moves us forward. It all comes back to the commitment of furthering the relationships we have by making sure that our customers are well taken care of. It is because of our customers that we are who we are today.
Today we are proud to represent First Choice as a growing company in the market and excelling in carpet cleaning services, water restoration, janitorial cleaning and other quality services offered to customers along the Lakeshore. We commit to meeting customer's needs and furthering them as a business.
"After nearly 20 years of pouring and finishing concrete floors my knees and back were getting tired. It occurred to me one day that there was a need for a quality company to maintain all the floors I had been pouring and finishing over the years. This would be a lot easier on my body.  It was one September day in 1991 while paddling down the Kalamazoo River that plans were laid to launch a cleaning and restoration business. Within a year the current was starting to carry us as we were gaining very good and loyal customers, both residential and commercial.

Now celebrating 22 years of service with over 30 employees, we have so much to be thankful for. We have experienced steady and continual growth in carpet cleaning, janitorial services, floor care & polishing, and water restoration. We have been grateful for all the work even in one of the worst economic climates in decades. God is truly good and gets the praise."
-Kent Pollard
If you are searching for carpet cleaning service, water restoration crew, or facility cleaning service, search no further! First Choice is your professional partner. Whether you are looking to take care of your home or business, don't let common floor frustrations worry you, especially when First Choice is only a phone call away.
We are eager to work with you to provide a customized maintenance program designed to your unique demands. Call us for a Free Estimate for any of your cleaning and restoration needs.
First Choice is also a member of the Michigan West Coast Chamber of Commerce and the Lakeshore Home Builders Association.